04 to 07 Sep, 2020
Memorial Day Weekend
Trip Opens: 20 March, 2019
Trip Closes: 15 May, 2019
TRIP COST
1/2Double: 320€
Triple: 305€
Single: 385€

Highlights
Ride the shoreline of Europe's favorite cycle path, Lake Constance
Easy going cycling through Austria, Germany and Switzerland
Visit the 'Bavarian Riviera'
Medieval towns of MeersburgConstance, Überlingen & Lindau
Lakeside beaches & Alpine mountain views
Visit Europe's largest waterfall, The Rhine Falls
Trip includes:
Daily bus transportation with daily bicycle and luggage transport
Hotel accommodations for 3 nights with 3 breakfasts & 2 dinners
Route descriptions & maps
Snacks and drinks on the bus
Bike Trailer for up to 40 bikes
Nature of the Ride
The Bodensee, known in English as Lake Constance, is the third largest lake in Western Europe — after the IJsselmeer in the Netherlands, and Lake Lehmann in Switzerland (known in English as Lake Geneva). Whereas Lake Lehmann is ringed by highways and busy cities without many bike routes, the Bodensee is ideal for easy lake-view biking out of traffic's way. The Bodensee is fed by, and drained by the Rhine River, which gathers it waters in the Swiss and Austrian Alps, and, after the lake, eventually dumps them into the North Sea. The falls of the Rhine river, the largest falls in Europe and a sort of mini-Niagra, lie only 20 miles west of lake.
The Bodensee (in German see means lake) touches three nations: Germany, Austria, and Switzerland. On all shores, the German language is spoken, and lifestyles are similar. No border stations now exist between Germany and Austria, and the border controls of Switzerland are minimal: As a cyclist, you can pass many times in and out of Switzerland without being stopped.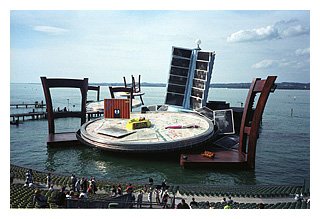 Bike routes along the lake shore are always flat. They traverse a a few small slopes away from the lake .
The Bodensee Bicycle Circuit mostly follows paved bike paths without traffic. Occasionally it follows mainly-traffic-free minor roads, or packed dirt lanes. On a handful of occasions, it follows town streets.
Attractions
The lake itself is the major attraction of the circuit, with its vistas, occasional marinas, and charming lakeside towns. Of the towns, the most impressive are Lindau and Konstanz in Germany; Bregenz in Austria; and Stein-am-Rhein in Switzerland, On the Rhine extension, Schaffhausen Switzerland is clearly worth a visit. The Mainau gardens, occupying an island near Constanz, are filled with delightful plantings and hilltop vistas, and the falls of the Rhine, near Schaffhausen, are spectacular, and worth views from all angles. Between the towns and the sights, woods, farms, and pastureland provide welcome variety to the eye.
Day 1: Friday – Stuttgart to Meersburg
Travel Stuttgart to Meersburg. Small snacks and drinks served on bus. Arrive at Hotel JUFA Hotel Meersburg , at around 17:30 hrs where we will be having our first dinner.
Overnight: Meersburg
Highlights
The attractive old lakeside town of Meersburg — a name that literally translates to "Castle on the Sea" — is home to not just one, but two, fine old castles. The Old Castle (Alte Burg), is a well-preserved medieval fortress, which can, in fact, trace its history all the way back to the 7th century.
Just a short stroll away is the New Castle (Neues Schloss), an attractive 18th-century edifice with Baroque flourishes that was completed in 1712 as a palace of the Prince Bishops. Now open to the public, the castle houses the Town Gallery (Städtische Galerie) and the Dornier Museum, both worth visiting for their impressive displays and exhibits related to local history and culture. Also worth a visit are the castle grounds, which include a lovely garden terrace boasting magnificent views over Lake Constance
After exploring these two lovely castles, be sure to spend time visiting some of the historic castle-inspired attractions in the old town. Highlights include the town square, or Schlossplatz, notable for its large old clock with an attractive face portraying Chronos, the God of Time; the pleasant Castle Chapel; two old town gates that have survived since medieval times; and a number of well-preserved half-timbered houses.
Meersburg Therme: directly on Lake Constance, with panoramic views of clouds, water, waves and the Swiss Alps!
Enjoy 3 hours in the sauna world of the Meersburg Therme (including bathing area and outdoor and bathing area, during the outdoor pool season) for 19.50€. Opening hours: 10:00 too 23:00 hrs.
Uferpromenade 12
Day 2: Saturday – Meersburg to Lindau
From Meersburg, with it's ancient Merovingian Castle, start pedaling onwards through the wine growing villages of Immenstaad and Hagnau and Zeppelin Museum of Firedrichshafen. Before arriving at the Island Port Lindau, the route leads through enticing beaches of the Bavarian Riviera. From Lindau, after putting away our bikes, we'll travel to Sipplingen by PSC bus.
Long Route – Meersburg to Lindau – Cycle : 45 km.
Easy Route – Meersburg to Friedrichshafen by bike – 20 km. Friedrichshafen to Lindau by PSC bus – 25 km.
Overnight: Sipplingen
Highlights
Friedrichshafen – Interested in how Count Zeppelin had his airship built? Curious to know about his greatest achievements – and how such terrible tragedies could have occurred? Discover the museum of technology and art. The Zeppelin Museum invites you to take a fresh look at these works of art. This approach is unlike any other in the world!
The highlight of the Lindau island is the glorious entrance to Lindau harbour. It features a statue of the Bavarian lion on one side, and the new lighthouse on the other, with glorious views of Lake Constance and the Alps in the background.
Day 3: Sunday – Sipplingen to Konstanz
Long Route – Sipplingen to Konstanz – 40 Km
Short Route – Sipplingen to Konstanz via Uberlingen (ferry) – 25 KM
Overnight: Konstanz
Highlights
ÜBERLINGEN: This Bodensee resort has an attractive waterfront and an almost Mediterranean feel. Überlingen is ancient—it's first mentioned in records dating back to 770. In the 14th century it earned the title of Free Imperial City and was known for its wines. No fewer than seven of its original city gates and towers remain from those grand days, as well as substantial portions of the old city walls. What was once the moat is now a grassy walkway, with the walls of the Old Town towering on one side and the Stadtpark stretching away on the other. The Stadtgarten (city garden), which opened in 1875, cultivates exotic plants and has a famous collection of cacti, a fuchsia garden, and a small deer corral. The heart of the city is the Münsterplatz.

UNTERUHLDINGEN – Welcome to the Stone Age! The lake dwellings of Unteruhldingen are one of the largest and oldest open-air Museums in Europe. From the museum's villages, you enjoy a stunning view over the entire Überlinger See.
By bicycle or on foot:

The Lake Dwellings are located directly at the Lake Constance bicycle route at the Lake Constance hiking trail. The Yellow signs guide you in all directions, e.g. the pilgrimage Church Birnau along the shoreline and across the nature reserve. Some distances for your orientation: Überlingen: 8 km, Meersburg ferry : 3,5 km, Schloss Salem: 10 km, Affenberg Salem: 8 km.
Bicycle stands are located at the areaway, and lockers are available in the Museum. Situated right next to the museum is a free swimming area. Dogs on leash are allowed in the museum. The museum is graded "limited barrier-free" (toilets, ramps, wide doors and lift is available).
The Flower Island Mainau can be explored on 45 hectare of impressive gardens. The second largest butterfly house in Germany invites everybody to its tropical world with numberless colourful butterflies and blossoms. Look around in one of the themed gardens including a Rhododendron Slope, Italian Rose Garden, Dahlia Garden and Hydrangea Path or the Herbaceous Garden.

A highlight of any visit to Konstanz is exploring the town's harbor. It's here you'll find the Kaufhaus dating from 1388, an old warehouse built specifically for trade with Italy. It's often referred to as the Konzilsgebäude, having been the meeting place of the conclave of cardinals who elected Pope Martin V in 1417. The harbor entrance is marked by a fascinating statue called Imperia,which commemorates this famous event. Although only erected in 1993, this stunning nine-meter-high statue has become a well-known landmark in Konstanz.

Day 4: Monday – Konstanz to Rhine Falls (the largest waterfalls in Europe)
Cycling from the town of Constance through Rhine River fishing villages and over the Swiss border to the medieval town of Stein am Rhein worthy of a couple hours of exploration. From here, we continue towards Schaffhausen where you can take a boat trip to the Rhine Falls, the largest waterfalls in Europe, bridging Germany and Switzerland. From there back to Stuttgart.
Highlights
Rhine Falls: Every year, more than two million visitors make the pilgrimage to Schaffhausen to see the roaring waters of the Rhine. That is why Schaffhausen is sometimes called the "City of the Rhine Falls".
The Rhinefalls are the highlight of this trip. These falls are Europe's largest, 500 feet wide and 80 feet high. You will need to visit the falls themselves on foot, so we will leave our bikes at the PSC bus stop.
The falls may be seen from above and below, on both sides of the river, which you can cross by a long pedestrian bridge. The views from the castle, Schloss Laufen, both above and under the falls, are worth the small admission fee. You may wish to take the boat ride to the observation pinnacle amidst the falls. Several restaurants and snack bars are at the castle and on the lower riverbank. The 2 mile walk back to town along the Rhine's north bank is very satisfying. (For more information, see the URL: http://www.rhinefalls.com)
Bus Itinerary
Friday, 24 May
Bus arrives at Patch barracks gate 14:00 hrs
Bus starts loading bikes and luggage 14:15
Bus departs Patch at 15:00
Bus arrives JUFA Hotel Meersburg, Vorburggasse 1-3, Meersburg, 88709 (between 17:30 and 18:00 hrs depending on traffic)
Saturday, 25 May
Unload bikes/load luggage between 8:30 and 9:00
Bicyclists will ride direction of Lindau Island.
Bus depart Meersburg to Landau Island 11:30
Bus stops Friedrichshafen to pick up some bicyclists 12:00
Bus departs Friedrichshafen 14:00
Bus arrives Landau Island between 14:30 and 14:45
Bus depart Landau Island 17:00 for HOTEL KRONE Seestrasse 54, D-78354 Sipplingen
Bus arrives at Hotel Krone around 18:00.
Sunday, 26 May:
Unload bikes/load luggage between 8:30 and 9:00
Bicyclists will ride direction Unteruhldingen
Bus departs Sipplingen at 11:30
Bus arrives at Island of Menau around 12:00
Bus departs the Island of Menau at 15:00
Bus arrives at Hotel Graf Zeppelin, St. Stephansplatz 15, Konstanz, 78462 around 15:15 hrs.
·
Monday, 27 May
Unload bikes/load luggage between 8:30 and 9:00
Bicyclists will ride direction Stein am Rhein
Bus departs Konstanz at 11:00
Bus arrives in Steckborn at 12:00 to drop and/or pick up bicyclists.
Bus arrive Stein am Rhein 12:30 to drop and/or pick up bicyclists
Bus depart Stein am Rhein for Rheinfalls at 14:30
Bus arrives in Rheinfalls at 15:00
Bus depart for Stuttgart at 17:00
Bus arrives to Stuttgart between 19:00 and 19:30
To Join the Trip:
Download a Trip Application (Top Right Corner) fill it up, sign it and email a copy to:patchskiclub.bookingdirector@gmail.com.
Make a Payment by Bank Transfer to the PSC Community Bank Account:
Patch Ski Club
IBAN DE33501109000015502341
BIC MNBIDEF1XXX
Details: Bodensee & Last Name, First Name
Did you know…
…that the entire length if Lake Constance is 273km?
…that the water is drinking quality? Even Stuttgart is supplied with drinking water from the lake.
…that the last time Lake Constance was completely frozen was in 1963?
…that the lake reflects sunlight onto vineyards and orchards, favouring fruit and wine growing. One third of apples consumed in Germany come from the Lake Constance region.
…that Lake Constance is the third largest lake in Central Europe?
…that all three countries, Germany, Austria and Switzerland, have sovereign rights on the lake, because borders were never exactly regulated.